Car accidents can happen for a variety of reasons including careless driving, road rage, unsafe road conditions and drunk driving. In some cases, car accidents will result in nothing more than a bit of damage to the vehicles involved. However, they can also cause serious injuries to drivers, passengers and other road users. If you've been injured in a car accident that was not your fault, you might be entitled to compensation for any injuries you've sustained.
The advisors at claimsaction.co.uk are available to support you if you wish to make a claim. If you call 0800 652 1345, an advisor will guide you through the car accidents claims process and review your case with you. You'll get free legal advice and if your case appears viable, you'll be connected with one of our personal injury solicitors. They'll make everything a little less stressful if they accept your case because they'll work on a No Win, No Fee basis.
Importantly, our solicitors are able to help with most car accident claims. However, in 2021, new rules came into effect for whiplash claims (in relation to RTAs). Our advice would still be to call our free advice line. If the value of your injury is less than £5,000, you'll be directed to a government portal where you'll be able to manage the claim yourself. If the claim exceeds that value, one of our solicitors might take on your claim and agree to represent you.
Can I claim compensation for a car accident?
It's important to note that you won't always be entitled to compensation following a car accident. To make a successful personal injury claim, you'll need to prove that someone else was responsible for the RTA. Before a car accident claims solicitor will accept your claim, they'll look to verify that:
The other road user (the defendant) owed you a duty of care; and
Their negligence led to a car accident; and
You were injured directly as a result of the accident.
Establishing a legal duty of care in car accident compensation claims is pretty straightforward. That's due to the fact that all road users are obliged to try and drive in a way that keeps others as safe as possible. This is a legal obligation set out by the Road Traffic Act 1988. As such, the next thing you'll need to do is prove how the defendant was negligent and what injuries you sustained. This is something we'll explain shortly.
Causes of car accidents and compensation claims
Let's now look at some causes of car accidents where you may be entitled to compensation for any injuries sustained. They include where:
Another vehicle collides with the back of your car because the driver was distracted by a phone, radio or satnav system.
You were hit by a car that was being driven by a driver under the influence of drugs or alcohol.
A car that was being driven aggressively hit you.
A careless driver rear-ended you in a roundabout accident.
Another driver misjudged the distance to your vehicle and collided with you at a junction.
The other driver acted in a moment of road rage and caused a deliberate collision.
Another car changed lanes without realising you were alongside them.
You were hit from behind by another vehicle.
You shouldn't be put off from claiming if you think you might have been partly to blame for the car accident. Split liability claims might still mean you'll be paid some compensation. For example, if it is agreed that you were 25% responsible for an accident, you could still claim for your injuries but your compensation would be reduced accordingly.
Some of the more common reasons for split liability claims include:
A degree of dangerous/reckless driving by the claimant.
When a pedestrian steps into the road without checking first.
If the claimant was not wearing a seatbelt at the time of the car accident thereby exacerbating their injuries.
If in any doubt, please speak to our advisors for the latest advice.
What injuries could I be entitled to compensation for?
While it is possible for any number of injuries to be compensated for in a car accident, some of the most common includes:
How much compensation will I get for a car accident?
Some people think that compensation in personal injury claims is some sort of fine or penalty against the defendant. However, it is only ever paid to cover any physical or psychological injuries and any costs linked to the accident. As such, rather than paying a fine, the defendant would be paying compensation to help you get back to the position you were in before the accident happened. Personal injury compensation for car accident claims can be based on:
Any pain you suffered because of the accident.
Any impact your injuries had on your family or social life (loss of amenity).
Earnings you've lost because of your injuries (including future lost earnings).
The cost of repairing/replacing your property i.e. your vehicle.
Care costs.
Travel expenses.
Medical costs.
The cost of making changes to your home if you're left with disabilities following the car accident.
It's important that you consider the full impact of your injuries when claiming compensation because you can only submit one claim. If you work with one of our car accident claims solicitors, they'll try to ensure all of your suffering is factored into your claim to try and ensure you're compensated fairly.
How to prove fault for a car accident compensation claim?
When you claim for injuries sustained in a car accident, you'll usually have to deal with the defendant's insurance company. Unless you can prove how their client was responsible for both the accident and your injuries, you won't be compensated in most cases. As such, you should supply proof to support your allegations. This could include:
Photos. If it is safe to do so, you should always take pictures of the road accident scene from various angles before either vehicle or cause is removed.
Dashcam footage. Where the accident was caught on dashcam (or CCTV cameras), you should ask for a copy of the footage as soon as possible.
Witness statements. If anyone else stopped at the scene of the car accident after witnessing it, you should ask politely for their contact details. They might be asked to provide a statement, later on, to explain what they saw if it's difficult to agree upon liability.
Medical information. You should always seek medical treatment for any injuries sustained in a car accident. If you visit your GP, a minor injuries unit or A&E, you can request a copy of your medical records to help prove the extent of your injuries.
Police reports. If the police attended your car accident, their report or investigation could prove a useful insight into what happened.
The other driver's details. As your claim is likely to be against another driver, you should certainly swap details with them. Try to make sure you get their name, contact details and insurance details. You should also note the make, colour and registration number of their vehicle.
After you've collected as much evidence as possible, please get in touch if you'd like us to review everything with you for free.
What's the time limit for a car accident claim?
Car accident claims have a 3-year time limit. In most cases, this will begin from the date of the accident. In some cases, however, it could begin later if your injuries weren't diagnosed immediately.
Claims relating to children do not have the 3-year limitation period. Instead, a litigation friend (explained here) can help the child to claim at any time before their 18th birthday. We would suggest that your claim be started as soon as possible to allow your solicitor as much time as possible to secure evidence to back up your case.
Where you've suffered minor injuries and the defendant accepts liability, the claims process might take as little as 6-months or so to be finalised. Where further investigation is needed to establish blame or to understand the extent of your injuries, the claim could go beyond a year before it's settled.
No Win, No Fee claims
Wouldn't it be nice if you could benefit from the experience of a specialist injury solicitor without having to risk your own money? Well, that's exactly how No Win, No Fee works.
If your claim is accepted by one of our car accident claims solicitors, you won't:
Have to pay your solicitor in advance.
Pay them for their work if your claim fails.
Be concerned about your solicitor's fees throughout the claims process.
Instead, your solicitor will provide their service on a No Win, No Fee basis and you'll only pay them a 'success fee' if you are paid compensation.
The type of contract our solicitors use is called a Conditional Fee Agreement (CFA). This will explain all of the work your solicitor will do and it will also set out what must be achieved before your solicitor will need to be paid.
If you agree to proceed, you'll agree that your solicitor will deduct an agreed percentage (up to 25%) of your compensation to cover the cost of their work if your claim is settled in your favour.
To find out more about No Win, No Fee car accident claims, please call today.
No insurance claims
If it transpires that the other driver involved in your car accident did not have insurance to cover them, we could still help you claim compensation.  The same is true if you're the victim of a hit and run accident where the other driver cannot be identified.
In these situations, our solicitors could help with car accident compensation claims through the Motor Insurers Bureau (MIB). This is a scheme that law-abiding drivers contribute towards through their own insurance premiums.
You will need to supply as much information about the car accident as possible. As a minimum, you should report the accident to the police and get a reference number. Also, try to supply as much information about the other vehicle as possible to help the MIB with their investigation.
Claiming compensation for a fatal car crash
Although compensation won't help with the emotional trauma from the loss of a loved one, our solicitors could help if you do decide to take action. They could help if you were financially dependent on the deceased or if you've incurred costs as a result of their death such as funeral expenses. Please get in touch with our friendly advisors if you have any questions about how we could help.
Can car accident claims be made against the local authority?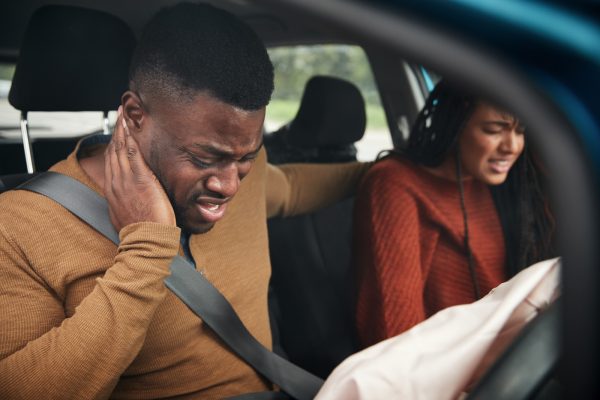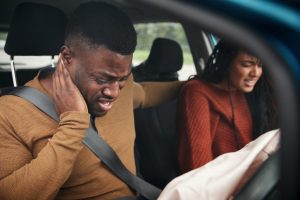 The Highways Act 1980 place a duty of care on local authorities to maintain roads in their area. That means they need to conduct a good programme of inspections and repair some problems they identify in a timely manner.
If it can be shown that the council failed to identify and repair a large pothole, for example, and that caused you to have an accident, it may be possible for you to claim compensation from the council for any injuries sustained as a result.
However, proving that the council failed to uphold its duty of care can be a lengthy process. For that reason, we'd suggest that you discuss your case with one of our specialist advisors for free legal advice about your options.
Start a car accident compensation claim today
Please get in touch if you'd like us to help you claim compensation following a car accident. Our team can be reached on 0800 652 1345. You can call or use live chat to get free advice about your options and we could appoint a No Win, No Fee solicitor if your claim is suitable. Or if you'd like to arrange for a callback, please use the form on this page.
If you have any further questions about car accident claims, please call today to raise them with one of our specialist advisors.