Injuries affecting the spine can be painful and cause long-term complications. They can have a massive impact on your own life as well as your loved ones. As such, if your spine has been injured in an accident that wasn't your fault, you might be entitled to compensation from the responsible party.
In this claims guide, we'll explain what scenarios might lead to compensation and how to make a spinal injury claim. Whether you're claiming for a slipped disc or on behalf of a loved one who's been paralysed, this guide should help.
If you do decide to take action and claim compensation, our team can support you. We'll begin by assessing the merits of your case during an initial consultation. During your free call, you'll get legal advice about your options. If there appears to be enough evidence to support a spinal injury claim, we'll refer you to one of our personal injury lawyers. They will provide their legal experience on a No Win No Fee basis if your claim is accepted.
We're ready to help if you'd like to take action today. If that's the case, please call our advice line on 0800 652 1345.
Can I claim compensation for a spinal injury?
Personal injury and medical negligence solicitors have to be sure that there are sufficient grounds to proceed before they'll take on a spinal injury claim. As such, when you call, an advisor would assess whether:
The defendant in the case owed you a duty of care; and
Their negligence caused an accident meaning they'd breached that duty; and
You suffered spine damage as a result of the accident.
Don't worry if you're not sure whether a duty of care was owed to you or not at this stage. This will be reviewed during your free consultation. There are many ways to establish this though. For example, if your injury was from a cycling accident, other road users owe you a duty of care to keep you as safe as possible because of the Road Traffic Act 1988. Similarly, while you're in a shop, the Occupiers Liability Act 1984 might be used to show that the retailer owed you a duty of care.
Once that has been established, you'll need evidence to prove how your accident occurred and how you've suffered. We'll explain how this is done later on.
Types of spinal injuries
The spine (or backbone) is a complex structure that helps you to stand, sit, walk, bend and twist. It consists of the cervical, thoracic and lumbar vertebrae as well as the sacrum and coccyx.
The different parts of the spine include the vertebrae, intervertebral discs, soft tissues, the spinal cord, nerves and facet joints.
You could claim for a range of spine and back injuries if they were caused by somebody else. Your claim could be based on:
Soft tissue damage.
Disc lesions.
Fractured discs.
Nerve damage.
Paraplegia (where your lower body is paralysed).
Tetraplegia (paralysis affecting all four limbs).
If you or a loved one has been affected by a spinal injury that was somebody else's fault, please get in touch to discuss your options.
Common accidents causing spinal injuries
Spinal injury claims can be based on a variety of common accidents. Some examples include:
There are many other examples of how spinal injuries can occur so don't worry if yours isn't listed. If you believe you are entitled to compensation because somebody else has caused you to suffer, please call our specialists today.
Examples of negligence that may entitle you to spinal injury compensation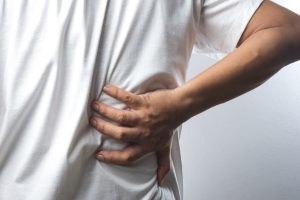 To give you some idea about when you could get compensation for a spinal injury, we've provided some examples below:
To check whether you've got grounds to claim compensation for a spinal injury, please contact an advisor for a free case review.
How much compensation for a spinal injury will I get?
While the fact that somebody else has caused you to suffer might be enough to make you claim compensation against them, there are other things to consider when calculating how much compensation for a spinal injury to ask for too. As well as the physical side of things, you should also consider what impact your injuries have had on your finances. When making a personal injury claim, you should think about:
The pain and suffering your damaged spine have caused.
Any impact on your ability to participate in hobbies, social events or family gatherings (loss of amenity, explained here).
Earnings you've lost because of your injuries and any you might lose in the future.
The cost of a carer.
Any medical expenses and rehabilitation costs.
Travel expenses.
How much it will cost to modify your home to help you deal with your injuries both now and in the future.
All of these things could be included within a spinal injury compensation claim. To learn more about what damages you could include in your claim, please call our team today.
Spinal injury compensation amounts
A few hundred £'s – £12,510 compensation for minor spinal (back) injuries.
£12,510 –  £38,780 compensation for moderate spinal (back) injuries.
£38,780 – £160,980 compensation for severe spinal (back) injuries.
£24,990 – £38,490 compensation for moderate spinal (neck) injuries.
How long do spinal injury claims take?
It is important to point out that some spinal injury claims can be quite lengthy. That's because it might take many months or even years to fully understand how you've been affected and whether you'll ever fully recover. Don't be put off from claiming though. Compensation is important as it can help you deal with the impact of your injuries. It could be used to cover the cost of a carer, medical treatment or rehabilitation.
Where liability is admitted by the defendant early on in the claims process but a prognosis can't yet be established, your solicitor could ask for an interim payment to be made to help cover any immediate financial implications. This process can happen more than once until your claim is finally settled.
In more serious cases, a claim can take many years to settle, more commonly for clinical negligence cases. However, if you've recovered fully from your damaged spine and the defendant has admitted responsibility for it, you could receive a compensation payment in well under a year.
How to prove you're entitled to compensation
Many claims for injuries to the spine are passed to the defendant's insurance company. As you might imagine, they will only compensate you if there is sufficient evidence to prove the extent of your injuries and that their client caused them. To help do this, the following could all be useful:
Accident reports. Any accident on business premises must be logged. As such, if you have an accident in a public place or at work, you should ask for a copy of your report. This will make it easier to prove when and where the accident took place.
Medical reports. You can request medical records and x-rays from the hospital that treated your spinal injuries. These can be used to show what injuries were diagnosed and the treatment that was required.
Witness information. If it's proving difficult to establish how your accident happened, your solicitor could ask any witnesses for a statement. As such, it's a good idea to collect their contact details as soon as possible.
Camera footage. Some personal injury claims can be supported by CCTV camera or dashcam footage. If your accident was caught on film, data protection laws mean you could request a copy.
Additionally, it's always a good idea to take pictures at the accident scene to help you describe what happened. If you can, this should be done before any items are moved or replaced.
As well as the proof listed above, there is a requirement for an independent medical assessment for spinal injury claims. Your solicitor will usually book a local appointment with a medical expert where possible.
During your appointment, the specialist will assess your spinal cord and your injuries and discuss how you've been affected. They will probably also refer to your medical files. Once they have finished, they'll explain your injuries and prognosis in a report and send it to all parties involved in the claim.
Claiming compensation on behalf of somebody else
A process exists that allows you to claim compensation for a spinal injury on behalf of somebody else if they are:
An adult who hasn't got the mental capacity to deal with the claim themselves.
A child under the age of 18.
In these scenarios, you could become the claimant's litigation friend. Once the paperwork has been accepted, the claim will proceed in much the same way as normal. You'll deal with the solicitor on behalf of the claimant and make decisions in their best interests. If the claim is successful, a court will manage the award until the claimant becomes 18-years old or regains their mental capacity. Until then, you can request money from the court by explaining how it will help the claimant.
Our solicitors can help manage the litigation friend process as well as your claim so please get in touch if you'd like to know more.
Spinal injury compensation claims time limits
You must begin your compensation claim within a 3-year limitation period. This will either start from the date of your accident or from when you found out about your spine injuries (the date of knowledge).
We would suggest that it's best to start as early as possible to allow your solicitor plenty of time to collect evidence to support your case. Also, as explained earlier, you could benefit from an interim payment to cover private medical treatment if your claim starts sooner rather than later.
No Win No Fee spinal injury claims
It's quite natural to worry about the cost of using a solicitor to make a spinal injury claim. After all, cases that run on for months or years can be expensive. You shouldn't let that put you off though as our solicitors work on a No Win No Fee basis for any accepted claim. That means you don't have to pay your solicitor for their work if you don't receive any compensation.
To formalise this arrangement, you'll receive a Conditional Fee Agreement (CFA) if a solicitor agrees to represent you. This will explain what work will be carried out and when you'll need to pay your solicitor.
If compensation is awarded, your solicitor will deduct their success fee from the settlement amount to cover their expenses and the cost of their work. Should the claim fail, you do not need to pay the success fee (hence, No Win No Fee).
By law, the maximum success fee when using a CFA is limited to 25% of your compensation. To see if you could claim with one of our personal injury solicitors by your side, please contact our team today.
Start a spinal injury claim today
Thank you for reading our article about spinal injury claims. We hope it has made things clearer and you know what you'll do next. If you've decided to take action, you can reach our team on 0800 652 1345. No matter what you decide to do next, you'll receive free legal advice during your initial consultation.
Our solicitors are registered with the Solicitors Regulation Authority and will represent you on a No Win No Fee basis if your claim is accepted.
You've come to the end of this guide about spinal injury compensation claims, so if you have any extra questions, please feel free to ask them via live chat.