Last updated on November 20th, 2021 at 08:57 am
A report by the Ladder Association cast a very interesting light on ladder injuries in the workplace and the progress made in improving safety over recent years. During the financial year 2014/15 there were 42 deaths as a result of falls from height both on site and in the workplace. This figure dropped to 37 for the financial year 2015/16 which is progress. However, in the 12 month period to the end of March 2016 falls from ladders at work accounted for 5,956 non-fatal injuries in the workplace.
The six most common fatal injuries in the workplace accounted for more than three quarters of fatal injuries in the financial year 2015/16. They include:
Falls from height, 37 deaths.
Struck by moving vehicle, 27 deaths.
Struck by moving object, 15 deaths.
Trapped by overturning equipment, 13 deaths.
Contact with machinery, 9 deaths.
Drowning or asphyxiation, 8 deaths.
Common Ladder Related Accidents At Work
Before we look at common ladder related accidents at work it is worth noting that all employers have a duty of care to ensure the safety of their employees. We will cover this duty of care in more detail but all employers have a legal obligation to ensure a safe working environment. Some of the more common ladder related accidents at work include:
Overstretching – when the ladder is too short for the job in hand.
Slippage – when the ladder is not secured on the ground.
Badly maintained equipment.
Substances on the ladder impacting grip.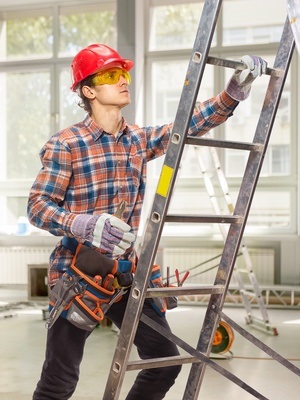 This is just a broad outline of some of the more common accidents relating to the use of ladders at work. Many people will not be aware but the industry guidelines suggest that those using ladders must maintain at least three points of contact at all times.
Employer's Duty Of Care To Ladder Users
When suffering an injury because you fell off a ladder at work for which you intend to seek compensation, you should first consider whether your employer (or another third party) was negligent in any way. When looking at an employer's duty of care towards employees using ladders this goes above and beyond simple safety guidelines and can include an array of issues such as:
Ensuring that equipment is appropriate for the task in hand.
Maintaining equipment to the highest standards.
Initial and ongoing training for employees using ladders.
Risk assessments in the workplace and for specific tasks.
Using appropriately experienced employees for individual tasks.
Creating and updating health and safety guidelines on a regular basis.
There may be occasions where employees have ignored ladder safety guidelines but even then they may still have a case for partial liability against their employer. So, what should you do if you fell off a ladder at work and believe there is negligence on behalf of a third party?
Proving Negligence For Your Fall
Before beginning the task of proving negligence for your fall off a ladder you should consider the following questions and whether they relate to your situation. In the event that you can answer "yes" to all three questions then you potentially have a strong case for compensation.
Was your fall off the ladder at work due to the fault of a third party?
Are you able to prove negligence by a person or company led to your accident?
Did the accident happen within the last three years?
As we touched on above, there may be situations where there is shared negligence and shared liability amongst two or more separate parties. There is perhaps a general misconception that where the claimant is unable to apportion shared negligence/liability they will have difficulty pursuing their ladder injury claim. Thankfully, this is not the case and if there is potentially shared negligence/liability you can still lodge a compensation claim if you fell off a ladder at work, naming the parties involved, and it will be up to the courts to decide on any split of negligence/liability.
Even in incidents where you fell off a ladder which may look as though they were the fault of the injured party, there may still be a compensation claim to pursue due to elements of negligence and potential lack of training by an employer. It is worth taking advice from experienced work accident solicitors who have seen many of these situations before and will be able to advise you accordingly.
What To Do Should If You Fell Off A Ladder At Work
If you fell off a ladder at work recently, the first thing to do is to immediately seek medical assistance. Unfortunately, as many ladder related falls can result in head injuries, such as concussion, the symptoms may not immediately be obvious to non-medical personnel. So, even if it turns out that no injuries have been received it is certainly worth getting yourself checked over by a doctor.
By immediately seeking medical assistance this also ensures that where treatment is required it is received as soon as possible. Ignoring potential injuries in the initial stages can lead to more serious medical issues further down the line. It is also worth noting that once medical assistance has been received, all of the details of your injury, the circumstances and any treatment will be noted on your medical records. As this information was recorded by an independent third-party it could prove extremely helpful when pursuing a compensation claim.
Gathering Evidence To Support Your Ladder Injury Claim
Aside from information recorded on your medical records, there are other potential avenues when looking to gather evidence to support your ladder injury compensation claim. In a perfect world, pictures of the accident, the working area, the ladder and other equipment used, and any injuries incurred would also support your claim. In reality if the claimant has been injured then they may not be able to gather further evidence in the short term. A helpful bystander or work colleague may be able to assist in taking pictures and recording witness contact information and statements where possible. However, while additional supporting evidence will obviously be extremely helpful when pursuing compensation for a ladder fall the first port of call must always be medical assistance.
In the event of a serious injury in the workplace it is likely that the Health and Safety Executive will become involved. They may even pursue their own legal action against employers if they are found to be negligent and potentially put the lives of employees at risk. While any legal action taken by the Health and Safety Executive is totally separate from a victims compensation claim, in the event that the case does go to court, a successful prosecution against an employer would strengthen a ladder injury compensation claim.
Compensation For Ladder Falls
It is only when claimants take advice from work accident solicitors that they realise there are two different types of compensation to consider. The first type is known as general damages and relates to financial compensation to reflect:
Pain and suffering experience due to the injury/injuries.
Life changing injuries.
Mental trauma suffered.
Generally there are compensation guidelines for various types of injury caused by ladders, which take account of their severity, although these are not set in stone and not legally binding. The courts and insurance companies do however refer to these guidelines on a regular basis as they reflect historic compensation awards.
While general damages offer a degree of variance amongst the courts and third parties seeking out-of-court settlements, the second type of compensation, known as special damages, is purely financial redress you've suffered. Special damages relate to historic and future financial liabilities such as:
Loss of earnings because of the fall.
Future loss of earnings.
Medical expenses due to the injury.
Future medical expenses.
Additional transportation costs.
Adaptions to your home that have been required.
This list is by no means set in stone but it does give you an example of the types of financial redress which may be available.
For an evaluation of what compensation you might receive if you fell off a ladder because of negligence please contact our work accident solicitors today.
Lodging A Ladder Injury Compensation Claim
After careful consideration of the accident, injuries and potential claims of negligence a personal injury solicitor will be able to advise you about the strength of your case. In the event that you have a strong case for compensation you would likely be offered a No Win No Fee arrangement where there are no upfront legal costs and any compensation award is split with the solicitor/ law firm on a predetermined basis. While this type of arrangement has attracted criticism in the past, it is worth noting that without a No Win No Fee service the vast majority of legitimate ladder injury compensation claims would never be lodged.
Once your ladder injury compensation claim has been lodged with the courts the defendant will receive a copy and any evidence backing up claims of negligence. Where the situation is fairly cut and dried the vast majority of defendants will attempt to seek an out-of-court settlement to reduce legal fees and complete the process as quickly as possible. There will be situations where the defendant will vigourously contest any claims of negligence and, together with potential shared negligence/liability situations, this may result in a court case.
While many legitimate compensation claims are never pursued it is worth remembering that many companies and independent third parties are unlikely to make any changes to the working environment unless they feel a financial cost. So, not only do those with a legitimate ladder injury claim for compensation receive justice but they may also prompt significant changes in working practices, improving safety for all employees using ladders in the future.