In the eyes of the law, arm injuries are those which impact the upper arm, forearm, elbows and the wrist. Any serious arm injury can have a material impact upon a person's private and working life and result in relatively large compensation payments which take in a whole host of different factors. If you believe you have sustained an arm injury as consequence of negligence by a third party the following advice will help you decide the next course of action.
How Common Are Arm Injuries?
When you bear in mind we automatically use our arms to support ourselves when involved in a fall, trip, slip, road accident or working incident, arm injuries can often occur. Some of the more common types of injury include:
Broken humerus.
Broken radius.
Broken ulna.
Broken wrist.
Muscle strains.
Tendon sprains.
Burns.
Muscle tears.
Hard arm vibration syndrome.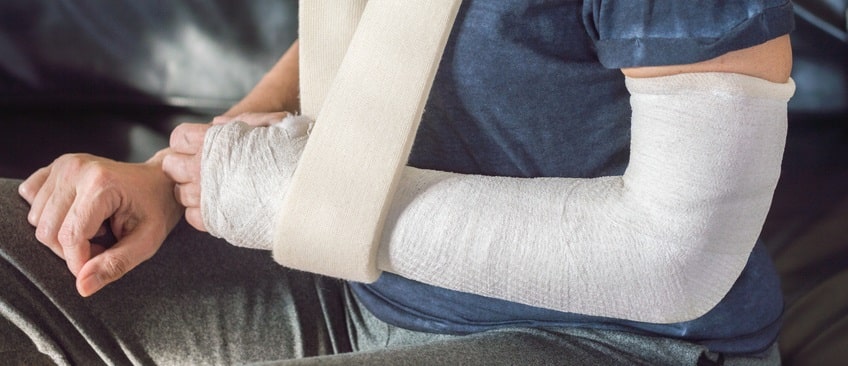 Unfortunately, there are also various occasions where amputation may be the only real choice due to the severe damage incurred. If you have had to have an arm amputated then this page provides information on amputation compensation claims. The severity of an arm injury will obviously have a major impact upon any level of compensation awarded. Arm injuries can literally happen anywhere with the most common causes for arm injury compensation claims including:
Injuries when lifting often due to inadequate training.
Sprains and broken bones as a result of slips, falls and trips.
RSI, carpal tunnel and similar conditions in the workplace which can significantly affect mobility and use of the arm.
Road traffic accidents including cars and bicycles.
Sports injuries.
Arm Injury Compensation Claim Amounts
There are guidelines which cover arm injury compensation payments which will not only take into account the pain and suffering caused by the injury but also any long-lasting damage and financial expense. The Judicial College is a body which many depend upon when looking for guidance although this only relates to general damages, compensation for pain and suffering, as opposed to reimbursement of expenses which is known as special damages.
The guidelines for general damages can vary widely with each arm injury claim considered on a case-by-case basis. Arm injury compensation claim guidelines include:
Simple forearm fracture, compensation between £5,000 and £14,600.
Serious fractures to the forearm but with good recovery, or expected recovery, compensation would be £14,600 to £29,800.
Serious fractures to the forearm with significant disability £29,800 to £45,500.
Extremely sever injuries causing disability but just short of an amputated arm, £73,100 to £99,500.
For an amputated arm compensation should be no less than £104,250.
For both arms amputated compensation would be in the region of £183,000 to £228,000.
As you can see there is quite a variation for similar arm injuries allowing the judge a degree of variation to reflect the extent to which the arm has been damaged and the suffering caused. Even though these arm injury compensation guidelines are not set in stone or legal in any way they are used by the courts and insurance companies on a regular basis. When looking towards special damages this is more straightforward and will take into account expenses incurred and future expenses such as:
Cost of medical treatment.
Cost of future medical treatment.
Loss of earnings.
Potential future loss of earnings.
Medical equipment required.
Adaptions required around the home.
Additional travel expenses.
While these are guidelines for special damages, and will reflect expenses incurred and forecast expenses for the future, different expenses will be considered on a case-by-case basis. Where funds have already been paid out it will simply be a case of reimbursement and future costs will need to be estimated by appropriately qualified individuals. In the case of future medical treatment and medical equipment a member of the medical profession will be able to assist.
Who Can Claim For Arm Injury Compensation?
In theory if you have been injured because of negligence, whether this is a relatively mild sprain or badly damaged arm, you may well be entitled to some form of compensation. The key is proving the negligence is on behalf of a third party, otherwise known as a breach of duty, which will then lead on to liability for any compensation. In some personal injury claim actions it can be difficult to directly link an injury with an accident but in the case of arm injuries it is relatively straightforward – a medical examination or simple x-ray may suffice.
The court will accept that "on the balance of probabilities" your injury was caused by the accident. It is then simply a case of apportioning negligence, clarifying liability and then putting evidence before the courts. Some of the more complicated arm injuries such as RSI or vibration white finger can be a little more difficult to prove beyond the balance of probabilities. However, your personal injury solicitor will be able to advise you accordingly.
The criteria for making a claim for an arm injury are as follows:
The accident was the fault of a third party.
The accident occurred within the last three years.
There is evidence to prove that the injuries occurred as a consequence of negligence by a third party.
In the vast majority of cases, where negligence and liability are obvious, the defendant will often request an out-of-court settlement resulting in negotiations between both parties. This route will save additional expenses for the defendant which might include legal fees and perhaps unwelcome publicity. Your personal injury solicitor will advise you on whether to accept an out-of-court settlement but at the end of the day it will be up to the claimant to approve this.
Pursuing A Claim For Arm Injury Compensation
In the event that you experience an arm injury as a consequence of negligence by a third party it is imperative that you keep a detailed record of what happened, when it happened and why it happened. Where you have encountered a slip, trip or fall due to damage or cluttered flooring in the workplace, for example, you should take a photograph of the area before it is cleared or repaired. However, you should seek medical treatment as a priority which will also place on record the accident and the resulting injuries.
A personal injury solicitor will be able to advise you about the possibility of obtaining compensation as a consequence of negligence by a third party. If there is a strong case then an arm injury claim will be lodged at which point the defendant would become aware of the action. The defendant is also at liberty to view the evidence and details of the accident after which they may admit negligence and liability or decide to go to court. In the vast majority of cases where there is a strong claim for negligence/ liability these actions often result in out-of-court settlements.
It is also worth noting that on occasion, due to the adrenaline rush as a result of an accident, some injuries may not immediately become evident. Unfortunately, in this situation some victims may decide against seeking medical attention which can significantly undermine any future arm injury compensation claim. If you have an accident which is not your fault and you do experience pain and suffering then you should as a matter of course seek medical advice.
If your accident has occurred in the workplace, and your employer is potentially liable for your arm injury compensation claim, it is important that you still take the appropriate action. There are various laws to protect employees from victimisation by their employers although some unscrupulous employers may still try to persuade you to drop any compensation claim. It is obvious why some employees may be concerned about this type of situation, but think of the future, if you take no action today then the same accident and injury may happen to somebody else further down the line. While no workplace is 100% safe, it is the duty of an employer to take care of their employees whether in the workplace or working off-site especially if they want to protect themselves from arm injury compensation claims.