Last updated on May 23rd, 2022 at 10:24 am
The subject of compensation claims as a result of injuries caused by airbags seems to attract an array of different opinions. The Royal Society for the Prevention of Accidents (ROSPA) has issued a factsheet detailing a number of recommendations and observations with regard to the use of airbags. While there is no doubt they are an effective secondary measure when looking to protect drivers and passengers, they need to be fitted correctly and used in conjunction with seat belts.
Airbags have helped to assist the ongoing reduction in road accident injuries and deaths although the fact that they use a gas propellant and can fully inflate within 25 ms means they do not come without their own risks.
Common Airbag Injuries
The speed with which an airbag inflates is mind-boggling and the impact on a car passenger or car driver can be significant. There are a number of common injuries reported due to faulty airbags which include:
Airbag burns when the airbag combusts in a car accident.
Respirator issues from the gas propellant used to inflate the airbag.
Eye infections as a consequence of the propellant.
Hearing loss as a result of the explosion noise when the airbag inflates.
Chest injuries due to the speed of deployment.
Damage to cosmetic implants.
Heart injuries and ruptures of the aorta.
Facial bruising and abrasions.
Broken bones.
The issue of potential injuries caused by airbag inflation like airbag burns on arm has also led to advice regarding the use of children's car seats, both front-facing and back-facing. While specific advice should be taken where there are concerns, ROSPA believes that rear-facing child seats should not be used in the airbag deployment zone and indeed there may be issues with forward-facing seats. The fact that the seats should be secure at all times should help to avoid significant injury but the speed at which the airbags inflate could increase the potential risk of airbag injury for small children.
Defective Airbag Injury Claims
Normally, you would assume that in order to claim compensation for an airbag injury incurred as a result of airbag inflation/failure the claimant will have to prove negligence on behalf of the defendant. The situation is actually slightly different with defective designed or manufactured airbags because this falls under the "strict liability law" with no need to prove liability. In reality, it is possible to pursue a compensation claim against the airbag manufacturer, car manufacturer or the driver in certain circumstances. All of these parties have a duty of care to their customers and indeed if your car is serviced on a regular basis then the airbags should be checked by the garage.
In order to pursue a valid airbag injury claim for compensation, evidence must be gathered to show there was "unreasonable danger" due to the defective airbag. Examples of such defects include:
A fatal flaw in the design.
Substandard manufacturing.
Issues with the assembly of the airbag.
Mistakes when fitting the airbag.
A lack of guidance from the manufacturer for vehicle users.
It may seem a little bizarre pursuing compensation claims for injuries sustained as a result of airbags but legally they need to be safe and secure and guidance offered for their use. Over the years we have seen an array of issues with airbags where they have been recalled by various car manufacturers. Thankfully, this ongoing scrutiny of airbags has resulted in better quality products and while there will always be issues with the speed and power at which they inflate they have certainly saved more lives than they have taken.
Duty Of Care To Vehicle Passengers
If you sustained an injury due to a faulty airbag such as an airbag burn on arm or airbag deployed injuries when travelling as a passenger in a vehicle, you may be forced to pursue the driver for compensation if they failed to maintain the product properly. Airbags need to be checked on a regular basis and these products come with very detailed safety guides. There may be issues with the way in which the airbag deploys and inflates, due to a lack of regular checks, or in some circumstances, the propellant may not work properly.
What Compensation Can You Claim For Airbag Injury?
There are two specific types of airbag injury compensation which injured parties may be able to pursue due to faulty or defective airbags. The first is general damages which reflect the severity of the injuries and take in factors such as:
Pain and suffering.
Mental trauma.
Life-changing injuries.
The second type of compensation is known as special damages and relates purely and simply to historic and future financial costs as a result of injuries incurred. While each case will be different, the more common types of special damages include:
Loss of earnings.
Loss of future earnings.
Additional transport costs.
Additional medical equipment is required.
Medical expenses.
Future medical expenses.
Adaptions to the home.
These are just guidelines, but in summary, general damages relate to compensation based upon the degree of injury while special damages cover financial liabilities as a result of the injuries.
Evidence In Supporting An Airbag Injury Claim
As we touched on above, there are various aspects which come into play when claiming compensation for injuries incurred as a result of faulty or defective airbags. It is imperative that medical assistance is received as soon as possible to prevent further injury and ensure treatment is received in a timely manner. This action can also prove vital when looking to pursue an airbag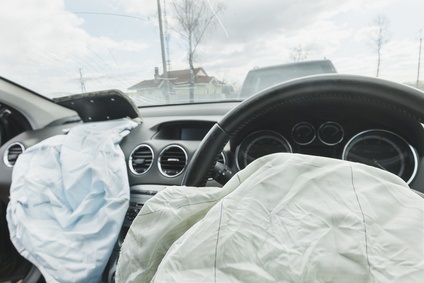 compensation claim further down the line as all details of the incident, injuries and circumstances would be placed on your medical records.
While facial abrasions, bruises and airbag burns are more commonplace, defective airbags can cause other issues such as neck injuries which may take some time to emerge. The adrenaline rush which the body creates in the event of a road traffic accident can in certain circumstances mask injuries and medical conditions like whiplash until a number of hours after the incident. So, you may feel as though you are medically fit and well but it is always sensible to get checked out.
Airbag Injury Compensation Claims Process
Photographic evidence, witness statements and any other information you can obtain to support your airbag compensation claim will be reviewed by your personal injury solicitor. It is imperative that as much detail is included in your initial report as possible to give your solicitor the full picture. They will then be able to offer guidance as to whether you have a valid personal injury claim. At Claims Action we would offer to proceed with your airbag compensation claim on a No Win No Fee basis.
It is worth noting that while proving some form of liability against the airbag manufacturer, car manufacturer or the driver of the vehicle may not be straightforward, in the event of split liability, a claim can still be lodged. It is the role of the courts, or out-of-court settlement discussions, to rule on the split of liability and the potential split of compensation. The fact that it is not clear does not impact your ability to lodge an airbag compensation claim.
Once liability has been proven, whether whole or split liability, the issue of compensation will be addressed. Where there is a fairly obvious liability the likelihood is that an out-of-court settlement will be pursued by the defendant. Where the situation is a little more complicated the case may be heard before a judge where all parties will be given the opportunity to present their evidence.
In years gone by we have seen an array of airbag-related court cases relating to faulty design and manufacturing issues. In many ways, this highlights the fact that those who suffer injuries as a result of faulty/defective airbags should pursue valid compensation claims. Very often it is only when manufacturers and operators of vehicles are faced with financial penalties that they change their ways. Hopefully, this will result in a safer driving environment for everybody, fewer injuries and fewer deaths and fewer airbag injury compensation claims.