While riding around the UK on a motorcycle is a great way to explore the country, the downside is it puts you at risk for getting seriously injured in a motorcycle accident. No matter how careful you are while riding your motorbike, you cannot control all external circumstances. A careless driver, an unexpected pothole in the middle of the road or an unavoidable oil spill in your path can result in an accident. The lack of any solid protection often leaves motorcyclists with serious and potentially life-changing injuries.
If you are injured in a motorcycle accident that was down to no fault of yours, you might want to consider starting a motorcycle accident claim.
Common Reasons For Motorcycle Accidents
You've taken all precautions to ensure your safety as you ride your motorbike on the UK roads. So what are the external factors that could still put you at risk for an accident?
A selection of common factors involved in motorcycle accidents can include:
Another driver pulls into your path at high speed from a side road.
An unavoidable oil spill in your path.
Another driver forcing you off the road on a tight bend.
Pedestrians ignoring the zebra crossing and attempting to cross the road just anywhere.
A pothole in the middle of the road.
Road work in progress without the proper warning signs.
Missing manhole covers.
Gravel or wet mud on the road.
Hit and run accidents.
Motorcycle injuries are just as varied as the factors that cause them. Motorcyclists who are involved in accidents can suffer injuries that range from soft tissue injuries, broken bones and fractures to head or spinal injuries, whiplash or paraplegia. The mental trauma that often accompanies motorcycle accidents only aggravates the situation.
What To Do Following A Motorcycle Accident
As in the case of any accident, the first priority should be your health and well being. This is even more important in a motorcycle accident because the injuries sustained are likely to be more severe than if you were in a car accident. The first thing you must do is get medical attention to assess your condition and get your injuries treated. If you are in no condition to get to the hospital yourself, call an ambulance.
There are several other things you will also need to do if you are planning on filing a motorcycle accident compensation claim.
Get photographs of the motorcycle accident scene – the photographs should show as much as possible what caused the accident.
Get photographs that highlight the severity of your motorcycle accident injuries.
Get photographs of your motorbike to show the extent of the damage.
File a report at the police station closest to the site of the motorcycle accident – this will serve as a record that the accident did happen and will support your accident compensation claim.
If another driver caused the accident, get the details of the driver and their insurance company and the vehicle registration details.
Ask bystanders or other drivers who witnessed the accident for their contact details so they can provide supporting testimony when necessary.
If there any CCTV cameras in the vicinity that may have captured the incident on camera, you are legally entitled to ask the owner of the camera to give you access to the footage. Getting CCTV footage of the motorcycle accident can provide you with the strongest evidence in your favour.
Contact a personal injury lawyer at the earliest.
Motorcycle Accident Personal Injury Solicitors
Unfortunately, because of a lot of wrongful information about hiring personal injury solicitors, a lot of motorcycle accident victims do not get the legal representation that could otherwise help them get the compensation due to them.
Here are a few things to consider about the benefits our motorcycle accident personal injury solicitor will provide in representing you if you are injured in a motor cycle accident that was no fault of yours.
No legal fees are charged upfront. Our established personal injury solicitor for road traffic injury claims will consult with you and readily represent you on a No Win No Fee basis after assessing the merits of your case. If the motorcycle accident was clearly not your fault and you have a strong case, your solicitor will suggest signing a No Win No Fee agreement, which states that you won't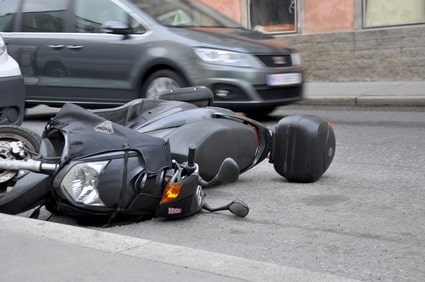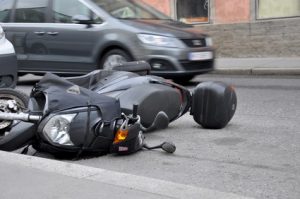 have to pay any fees upfront, nor do you have to pay any fees at all if you lose the claim. You only have to pay a set percentage from the compensation awarded when they win the claim.
You can look for a personal injury solicitor even if your insurance company has already suggested they provide you with legal representation. Your insurance company has a duty to provide you with legal representation but you are under no obligation to accept their offer. It is in your favour to find a reputable personal injury law firm to fight your claim without affecting your rights or your insurance. Personal injury solicitors who only work on personal injury cases are more knowledgeable in this field and are more likely to get you higher compensation.
The personal injury solicitor we assign to your motorcycle accident claim will make sure your case is filed before the statute of limitations. All motorcycle accident compensation claims must be filed within 3 years of the date of the accident. This means you'll need to gather all evidence, including police records, medical records and witness statements to build a strong case and file it within 3 years, all of this while trying to heal from your injuries and attending to your personal and professional commitments. This can be incredibly stressful. Our experienced solicitor on the other hand knows what needs to be done and will stay focused on your case and ensure that it is filed well within the 3-year limitation while you take care of other matters.
Start Your Motorcycle Accident Claim Today
Have you got a motorcycle accident claim or just want some expert advice? We can help either way and are just a quick phone call away so please do call or send us a call back request for a time that suits you better.
If you decide to go ahead and make a motorcycle accident claim with our personal injury solicitor, we will need you to send all of the documentation and photographs related to the accident so our motorcycle accident claim solicitor can use it to build your case. They will also ask you to provide all of the details of the medical treatment that you received along with all expenses related to the treatment in order to substantiate your claim but all of this will be explained to you (and anything else you'd like to know) if you call us on 0800 652 1345.