If you've been injured in an RTA that wasn't your fault, this article on motorcycle accident claims will show when you could be entitled to be compensated for your injuries.
If you are interested in making a claim, our team can help. If you call for a no-obligation case review, a specialist advisor will run through your options with you and provide free legal advice. For claims that appear to have strong grounds, we could ask one of our personal injury solicitors to intervene. They provide expert legal representation on a No Win No Fee basis for any claim they agree to work on. That means you'll find the claims process a lot less stressful as you'll know that you won't pay for your solicitor's work unless you're paid compensation.
Are you ready to begin a claim straight away? If so, please call us today on 0800 652 1345. Alternatively, please read the rest of this article to learn more about the process of making a motorcycle accident claim.
Motorcycle accident statistics
Motorbike riders are potentially one of the most vulnerable groups of road users. While motorcycles provide a type of freedom that other forms of transport can't offer, they don't provide much protection in the event of an accident. Being knocked off of a motorbike can result in minor ailments like cuts and grazes but it's much more likely that the rider will suffer serious or life-changing injuries. In fact, government statistics show that 285 motorcyclists died in road traffic accidents (RTA) in 2020. A further 4,429 we seriously injured.
What commonly causes motorcycle accidents?
There are various reasons why accidents involving motorbikes happen. Some of the common reasons that claims are made include accidents caused by:
Motorists pulling in front of a motorcycle at high speed from a junction.
A car door being opened as a motorbike is passing.
Oil or gravel on a wet road.
Pedestrians stepping out in front of a motorbike.
Drivers that are distracted by their mobile phone, satnav or entertainment system.
A driver braking in front of a motorbike in an act of road rage.
Drivers affected by drugs or alcohol.
Potholes or sinkholes in the road.
Raised or missing manhole covers.
Other road users changing lanes without noticing a motorcyclist beside them.
Drivers rear-ending motorcyclists waiting to enter a roundabout.
Roadworks that aren't properly highlighted by warning signs or lights.
As you can see, there are many reasons why motorcycle accidents happen. Whether you can claim compensation for them will depend on a number of factors. As such, that's what we'll look at next.
Can I claim compensation for a motorcycle accident?
Before one of our personal injury lawyers will accept your case, they'll check whether you've got a reasonable chance of winning compensation. This step saves everybody's time and means you won't be offered false hope. The main criteria that the lawyer will check include whether:
The other party in your motorcycle accident claim (the defendant) owed you a legal duty of care; and
You were involved in an accident that occurred because the defendant was negligent (breach of duty); and
You suffered injuries during the accident.
Your main role during the claims process will be providing evidence relating to the cause of the accident and the injuries you suffered (we'll explain more about this later on). You won't need to worry too much about the duty of care criteria. That's something your solicitor will assess for you. In road traffic accident claims, this is usually quite straightforward as all road users have a duty of care towards each other's safety as set out by the Road Traffic Act 1988. This means they should drive as safely as possible and in line with the rules of the Highway Code.
If you believe you're entitled to be compensated for injuries sustained during a motorcycle accident, please call today.
Common injuries sustained in motorcycle accidents
There is no definitive list of what type of injuries can result in motorcycle accident compensation claims. Each claim is unique and all riders will be affected differently. Essentially, as explained above, any injury that was caused by another road user's negligence could entitle you to claim. Some of the more common motorbike accident injuries include:
Bruises and internal bleeding.
Bone fractures.
Back and neck injuries (including whiplash).
Ligament and tendon damage.
Penetrating wounds.
Our personal injury solicitors specialise in any type of road traffic accident claims involving motorbikes. To find out if we could appoint one to represent you on a No Win No Fee basis, please get in touch today.
How much compensation for a motorcycle accident?
If you decide to claim compensation for a motorcycle accident, you won't just ask for a lump sum of cash from the defendant. Instead, you'll need to justify every pound you ask for to their insurance provider. While you won't ever fully recover from some motorbike injuries, the idea of compensation is to get you as close as possible to the position you were in prior to the accident. You can claim general damages (for your suffering) and special damages (for any costs associated with your injuries). Motorcycle accident claims could therefore cover:
Any pain and suffering your accident and subsequent treatment caused.
The impact your injuries have (loss of amenity) on your social, domestic or work life.
Loss of income including any earnings you'll lose in the future.
The cost of a carer (including the time a loved one spent supporting you).
Travel expenses.
Medical and rehabilitation costs.
The cost of making modifications to your house if they will make dealing with any disability easier.
As you can see, there's a lot to consider before filing a motorcycle accident compensation claim. You should take your time at this point because you can't request further compensation later on. If you work with one of our specialist solicitors, they'll review your claim in fine detail in an attempt to make sure all aspects of your suffering are compensated for.
Please get in touch on 0800 652 1345 if you'd like more information about what you could claim for.
Providing proof that will strengthen your claim
As mentioned earlier, you'll need proof to show how your motorcycle crash happened and what injuries you sustained if you're to make a successful motorbike accident claim. The forms of evidence you could use include:
Photographs. Where it is safe to do so, it's always a good idea to try and capture the aftermath of the accident. Ideally, it's best to get pictures from various angles before any vehicles are moved.
Witness information. You should ask anybody who saw your accident take place to provide their contact details. If liability for your accident is denied, your solicitor could ask the witnesses for a statement of what they saw.
Camera recordings. If your accident was caught on a helmet camera, dashcam or CCTV, you should take steps to secure the footage as soon as possible.
Emergency services reports. In some cases, the police may attend the accident scene to investigate what happened. Once their report is published, it could be used to support your claim.
Other drivers details. You should always obtain details from anybody else who was involved in your accident. This should include their name, contact details, vehicle registration number and insurance policy details.
Medical records. We would always suggest that you attend A&E or a minor injuries unit following a motorcycle accident. After your injuries have been properly assessed and treated, you could ask for your medical records to help prove the extent of your suffering.
Please let us know if you'd like us to review any evidence you've managed to secure so far.
Making a compensation claim against the local authority
Highways England (formerly the Highways Agency) and local authorities have a legal duty of care to inspect and maintain roads. That means they need to assess any defects regularly and make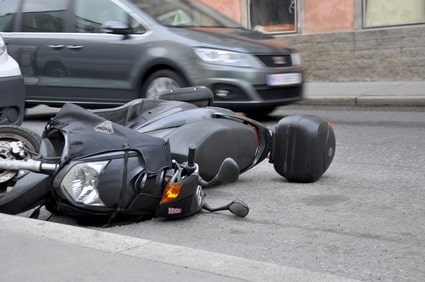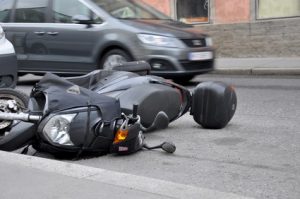 repairs where necessary.
If you are injured after a motorbike accident that was caused by an unsafe road surface, you may have grounds to claim against the agency responsible for that stretch of road. However, this isn't always easy. That's because, if the council can show that they had inspected the road recently, they may have a valid defence against your claim.
The easiest way to find out if you have the grounds to make a claim is to speak with our team. They'll review your chances of being compensated and let you know your options for free.
Claiming compensation from an uninsured driver for a motorcycle accident
If you're involved in a motorbike accident where the other driver was not insured, don't despair. You could still claim but the process will be slightly different. If you decide to work with us, one of our solicitors could help you to claim through the Motor Insurers Bureau (MIB).
The MIB scheme also allows you to claim for hit and run incidents where the other party cannot be identified. It is funded by a levy on insurance policies that legitimate road users purchase.
For more advice on how we can help, please call today.
Claiming for a fatal accident
If you've lost a loved one in a fatal motorcycle accident, we could help you to make a claim. While we know that money will not make things better, compensation could help you to cope with any financial impact.
You could claim a bereavement payment as well as seek compensation for any financial costs (such as funeral expenses) caused by the accident. Furthermore, you could claim if you were financially dependent on the deceased's income or benefits.
Please get in touch if you'd like us to explain your options in more detail.
Whiplash claims
It is possible to sustain whiplash injuries during a motorcycle accident. As such, you could be entitled to compensation for your injuries. However, recent changes in the law mean that claims with a value of less than £5,000 might not be viable for our solicitors. However, ss it's not always clear what the value of your claim might be, we'd suggest that you call us to discuss your claim in the first instance. If we suspect your claim is higher than the £5,000 threshold, we could ask one of our solicitors to help. Otherwise, we'll direct you to the claims portal where you can manage everything yourself.
Is there a time limit for motorcycle accident compensation claims?
The Limitation Act 1980 sets out that motorcycle accident compensation claims for personal injuries have a 3-year time limit in the UK. Usually, this will begin from the date of your accident. If the claimant has lost the mental capacity to claim for themselves, the time limit won't apply if somebody else wants to claim (as a litigation friend) on their behalf.
We always advise that it is best to take action as soon as possible for a number of reasons. Firstly, you'll allow your solicitor plenty of time to carry out tasks such as evidence gathering or arranging for medical reports. Secondly, if necessary, your solicitor could request an interim payment from the defendant to cover the cost of private medical care to help reduce your recovery time.
Start a motorcycle accident claim today
If you're ready to claim compensation following a motorcycle accident, please get in touch on 0800 652 1345 today. We'll review your claim with you and explain your options during your call.
If your claim is accepted, one of our solicitors will represent you on a No Win No Fee basis. That means you'll only have to pay for their work if your case is won and compensation is awarded.
Thanks for reading our claims article on motorcycle accident claims and if you need any additional information, please connect with us via live chat.