Last updated on May 14th, 2022 at 08:34 am
The term vibration white finger (VWF) relates to excessive and long time use of vibrating tools. Since the condition was diagnosed we have seen an array of vibration white finger compensation claims some of which go back many years. The use of pneumatic drills in the mining industry, construction sector and on the roads has been the source of numerous claims in recent times.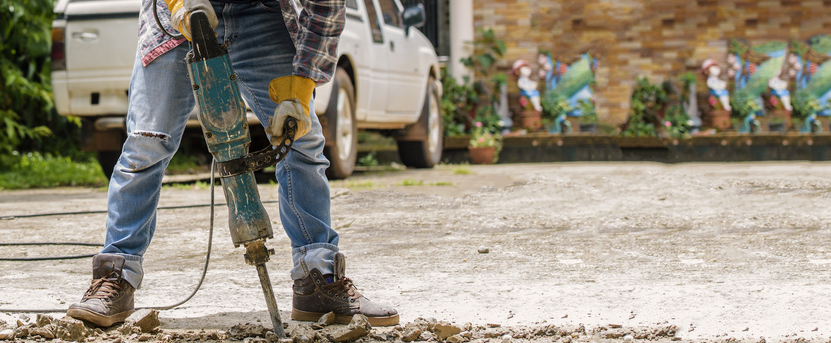 Common Vibration White Finger Symptoms
While the symptoms of vibration white finger can vary between individuals the condition itself is a consequence of injury to the nerves, blood vessels, muscles, hands, wrists and fingers. Individual compensation claims for vibration white finger will depend upon the exact symptoms and the impact they have on the individual's life and capacity to work.
Common vibration white finger symptoms include:
Numbness or a tingling sensation in the finger-tips. This can impact simple tasks such as doing up buttons or even picking up smaller items. While traditionally only the ends of the fingertips are affected, the numbness or tingling can spread up the whole finger. In some individuals, the symptoms are permanent while in others the symptoms occur on an intermittent basis.
Skin discolouration/ cold fingers. Discolouration of skin surrounding the fingers is commonplace and can turn red, white or blue. Doctors have diagnosed this symptom as a type of Raynaud's Disease and has been triggered by holding cold objects or being exposed to cold weather.
Aches/ pains in hands, fingers and arms. Damage to the muscles, bones or joints is believed to be the cause of this symptom which can also impact an individual's grip.
Current Regulations To Prevent Vibration White Finger
Many cases of vibration white finger go back to the heyday of the UK coal mining industry and other sectors which made use of pneumatic drills and other similar devices. In order to protect the current and future workforce from vibration white finger, the Control of Vibration at Work Regulations Act 2005 was brought in. Employers now have a duty of care to look after their employees and reduce the possibility of vibration white finger occurring by:
Adding regular breaks away from vibrating tools and equipment at work.
Ensuring that the temperature in the working environment is within "reasonable" limits.
Providing employees with anti-vibration gloves.
Investment in the right tools.
Ensuring that the workforce is adequately trained in using vibration tools.
Abiding by the above guidelines will to a great extent demonstrate an employer has done all in their power to reduce the risk of vibration white finger. If equipment such as adequate protective clothing is not supplied then this could leave the employer open to a vibration white finger compensation claim.
Obtaining A Diagnosis Of Vibration White Finger
While many personal injury claims are time-barred to a maximum of three years, the situation regarding vibration white finger compensation is a little different. The symptoms associated with the condition can take up to a decade or more to emerge. As a consequence, where cases of vibration white finger are suspected the consulting doctor will require a full work history of the individual. It should be fairly straightforward to link the emergence of vibration white finger to work undertaken in the past and produce a report detailing the link.
When attempting to diagnose vibration white finger the following information will be required:
Examples of skin discolouration in fingers.
Instances of reduced sensation in fingers plus a significant reduction in associated muscle strength.
Occupational history showing evidence of excessive exposure to vibration.
An exclusion of all other possible conditions.
While awaiting an official diagnosis of vibration white finger your personal injury solicitor might want to have an independent medical examiner take a look at your injury to establish the link. The official diagnosis report will obviously further strengthen the case for vibration white finger compensation.
When To Start Your Vibration White Finger Compensation Claim
As we touched on above, typically there's a three-year limit when starting a personal injury compensation claim. The situation with vibration white finger is very different because it can take more than 10 years for the symptoms to emerge. As a consequence the time limit in this situation would be:
Three years from the date of the VWF injury or;
Three years from when the individual became aware of the condition.
The second cut-off point ensures that even those who began developing vibration white finger decades ago may still have the opportunity to claim compensation where applicable. If you do not lodge your vibration white finger claim within three years of a diagnosis then you will lose the opportunity to claim compensation.
Typical Vibration White Finger Compensation Amounts
As with all personal injury claims, not only can victims claim for general damages, compensation for pain and suffering, but they can also claim for special damages, additional expenses incurred and lost earnings.
For relatively minor instances of vibration white finger, the courts have been advised to award between £2,990 and £8,640. In instances of a more serious case of vibration white finger up to the most serious of cases the courts can award between £8,640 and £38,430.
Any potential awards on the basis of special damages would simply be a reimbursement of connected expenses and payment of estimated related expenses going forward.
Making A Vibration White Finger Compensation Claim
Symptoms of vibration white finger can in some circumstances take more than 10 years to emerge. If you begin to experience tingling or numbness in your fingertips this may be a sign of vibration white finger. It is imperative that you take medical advice as your GP will be able to test for the condition and review your working history to see any potential connection with vibrating tools.
Medical reports, working history and a timeline of emerging symptoms of vibration white finger will help your solicitor to review your situation and take the relevant action. Unlike traditional personal injury claims, there is no strict three-year time limit with an additional limit of three years after diagnosis now in place. While many vibration white finger sufferers automatically assume they will be unable to claim compensation for injuries effectively incurred decades ago, this is not necessarily the case.
If you suspect you have a claim to vibration white finger compensation contact us today to speak with a personal injury solicitor who can give you their expert opinion.