The idea of claiming compensation for industrial deafness may appear challenging on the surface for many people. This is because it can take decades for the effects of long-term exposure to excessive noise to present itself in the form of industrial deafness. However, your employer has a duty of care to try and reduce the risk of workplace hearing loss. If they don't, and you are diagnosed with occupational or industrial deafness because of their negligence, you could be entitled to compensation.
Our guide on industrial deafness claims aims to show you when a claim might be possible and what a compensation payment could cover.
Would you like to talk to us about an industrial deafness claim right now? If so, please call us on 0800 652 1345 today. Alternatively, please carry on reading to learn more about workplace hearing loss claims.
Can I claim compensation for industrial deafness?
Our solicitors will always try to verify that your claim has a realistic chance of success before taking it on. That means they will check whether:
Your employer breached their duty of care toward your well-being; because
They were negligent in some way; and
You have been diagnosed with industrial deafness as a result of their negligence.
Several laws can be used to establish a legal duty of care including the Health and Safety at Work Act 1974 and/or the Control of Noise at Work Regulations 2005. Your solicitor will assess which law applies so you won't need to be too concerned about this. However, you could improve your chances of winning your case by collecting supporting evidence. We'll explain more about this later on in this guide.
How much compensation for hearing loss can I claim?
The idea of any compensation awarded for hearing loss suffered due to your working environment is to help with your recovery (where possible) and to cover any costs you've incurred. Usually, two heads of loss are used:
General damages. To cover any loss of amenity and any suffering.
Special damages. To recoup any expenses or costs associated with your injuries.
See our page on what general damages and special damages are.
We can't say how much you might be awarded until a solicitor has collected all of the necessary evidence. However, in general terms, you could be compensated for:
The physical effects of your hearing loss.
Any psychological injuries caused by industrial deafness such as depression or anxiety.
The impact your hearing loss at work has on your hobbies.
Any impact on your family life or social activities.
Care costs if you've needed support from others.
Any medical costs including, in some cases, private medical treatment.
Travel expenses associated with your treatment or the claims process.
Loss of income.
Future loss of earnings where your hearing problems mean your ability to work will be reduced in the long term.
In some cases, enhanced hearing aids might be paid for by the defendant if they'll offer you a better quality of life than those provided by the NHS.
All of these aspects should be considered before you file an industrial deafness claim as you cannot request an additional payment once you have settled. If you work with a personal injury lawyer, they will use their experience to try and make sure everything is included. If your case is accepted by one of our solicitors, they'll always attempt to secure the maximum level of compensation for you.
Examples of when you could sue an employer for hearing loss
As explained above, you could claim compensation against your employer for hearing loss if their negligence has caused your hearing to suffer. An industrial deafness claim might be possible if your employer: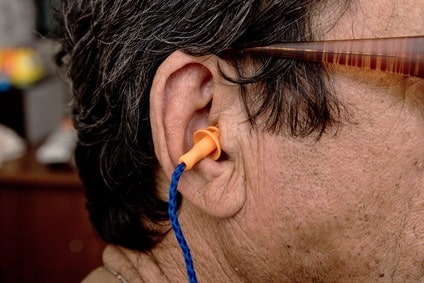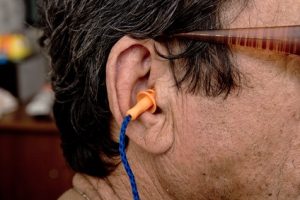 Did not supply Personal Protective Equipment (see our PPE injury claims page) like ear defenders in areas where noise levels could not be reduced.
Failed to consider using quieter equipment or machinery.
Failed to consider installing soundproofing.
Did not allow you regular rest breaks in a quiet area.
Failed to consider varying your role or shift patterns so you weren't subjected to loud noises for prolonged periods.
Failed to monitor the level of noise in the workplace.
If your hearing was damaged because of your working environment, one of our workplace solicitors could help you to claim compensation. Please call our team today on 0800 652 1345 and we'll explain your options for free.
Employment laws relating to personal injury claims
Some people delay claiming compensation from their employer because they worry they'll be disciplined or even sacked. This is not something you should worry about as employment laws mean you cannot be treated any differently for suing your employer (so long as the claim is honest). If action were to be taken against you, a separate legal claim could be made for constructive or unfair dismissal.
Symptoms associated with industrial deafness claims
The term industrial deafness can encapsulate a number of different symptoms. They might not be immediately obvious as they can take many months or years to develop. Other terms used to describe these symptoms include Noise-Induced Hearing Loss (NIHL) or occupational deafness.
Some of the signs that could mean you're suffering from industrial deafness include:
Deafness in one or both ears (or partial deafness).
Where you need to ask others to repeat themselves during conversations.
Needing to increase the volume on the television or radio to hear it.
Temporary hearing loss.
Tinnitus – see our page on tinnitus compensation claims.
Difficulty hearing voices over background noises.
The symptoms of industrial deafness might be intermittent, temporary or permanent. If hearing loss has been diagnosed by your GP, you may be entitled to compensation if your condition can be linked to your employment.
Providing proof for an industrial deafness compensation claim
Usually, when you start a compensation claim against your employer for industrial deafness, it will be forwarded to their insurance company. By default, the insurer is likely to deny all liability for your hearing loss. As a result, if you can't present clear and concise proof of why your employer was to blame, you might be refused compensation. The following forms of evidence could all help you to win your claim:
Details of your employment history. Your solicitor will use this to examine which employer and role could've caused your loss of hearing.
Medical evidence. Details of any appointments with your GP could be requested to help confirm your diagnosis. If you were referred to a hearing specialist, their reports could also be obtained.
Correspondence with your employer. If you complained to your employer in writing (emails, letters, text messages etc), you should give a copy to your solicitor. Also, you should provide any responses you received about the matter.
Occupational health records. In some cases, reports from an occupational health specialist could be used to show your working conditions (if one was requested). Your employer may also be asked to provide specialist reports to confirm they'd carried out noise level checks during your employment.
Witness details. Finally, your colleagues may be asked to provide a statement about working conditions. For this reason, you should check that they are happy for you to give their contact details to your solicitor.
As part of the claims process, you will need to see an independent medical assessment so that they can assess your hearing loss. You needn't be too concerned about this as the appointment won't take long and your solicitor can usually book your meeting locally. Once the specialist has completed their assessment, a report will be filed to explain your prognosis.
Don't worry if you don't have everything to hand already. During the industrial deafness claims process, your solicitor will help you to collect any proof that they think might improve your chances of being compensated.
Time limits for making an industrial deafness claim
All personal injury claims have a 3-year limitation period in the UK. For accident claims, the time limit would usually begin on the date of an accident. However, for industrial deafness claims, this would not apply. Instead, your time limit will start from the date your hearing loss was diagnosed by a medical professional.
While 3-years might be quite a long time, we do suggest that it's best to begin your claim as soon as possible. When doing so, you'll have plenty of time to gather proof and your solicitor will be able to book medical appointments for you. If you leave the claim until the last minute, there may not be enough time to complete all of the required tasks.
If your employer accepts that they were responsible for your hearing loss quickly, you could receive a compensation award within around 9-months. Where more time is required to establish the extent of your hearing problems or where negotiation over liability is needed, the claims process can take longer.
Please contact us if you'd like to check how long you have to start your claim.
Can I start an industrial deafness claim against a previous employer?
It's quite common for hearing problems to be diagnosed later in life. After discussing your work history, a specialist may determine that your suffering was caused by a previous employer. The good news is that you could still file a claim against them so long as you begin the claims process within 3-years of your date of diagnosis.
No Win, No Fee industrial deafness claims
Proving liability in an industrial deafness claim can be complex and time-consuming. We believe you'll have a better chance of being compensated with the help of a personal injury solicitor. Their experience could be the difference between winning or losing your case.
Don't be put off by the cost of having a solicitor represent you though as ours offer a No Win, No Fee service for any case they take on. That means that you:
Won't need to pay your solicitor upfront for their work.
Won't pay them if the claim fails.
Will pay a success fee to cover your solicitor's work if you receive a compensation payment.
If your case is accepted, your solicitor will:
Consult with you to learn how your hearing has been affected.
Collect evidence and medical reports to support your case.
File the claim with the defendant and deal with all communication so you won't be expected to answer any technical questions.
Try to counter any objections raised by providing further evidence.
Liaise with you to review the suitability of any settlement offers.
If you decide to proceed, you'll be sent a Conditional Fee Agreement (CFA) to explain what work your solicitor will do for you. Once signed, work should begin on your claim right away.
To find out if one of our No Win, No Fee solicitors could help you to claim, please call today.
Start an industrial deafness compensation claim today
If you or a loved one have been affected by industrial deafness, we could help you to take action. Simply call 0800 652 1345 today and we'll start the ball rolling.
To start, we'll review the merits of your claim with you. You'll be given free advice about your options and we could connect you with a specialist solicitor from our panel if the case is strong enough. If your claim is taken on, they'll represent you on a No Win, No Fee basis.
You've reached the end of our industrial deafness claims guide but please feel free to contact us if you have any further questions.